The Sewing Bee Rucksack (GBSB season 9)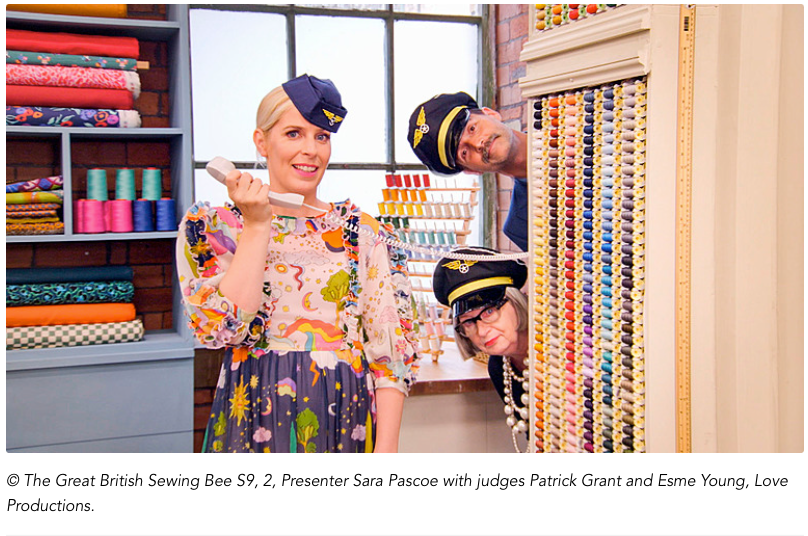 Are you ready to take your sewing skills to the next level? Look no further than The Sewing Bee Rucksack! There is a fun and functional pattern perfect for beginners and experienced sewers alike. With its spacious main compartment, exterior pockets, and adjustable straps, a rucksack is the perfect accessory for your next adventure. Plus, with a variety of fabric options and customization possibilities, you can make a bag truly your own. So why settle for a boring store-bought backpack when you can create your own stylish and personalized rucksack? Let's dive in and start sewing!
1. Introduction to the Rucksack
A Rucksack is the perfect project for those looking to create a stylish and practical bag that can be used for a variety of purposes. Whether it's for carrying your laptop to work or a day trip to the beach, this versatile bag has got you covered. The best part about this bag is that it can be customized to match your personal style. You can choose from a wide range of fabrics, patterns, and colors to create a unique and individual look. Imagine the joy of turning heads with your one-of-a-kind rucksack while also reaping the benefits of your own handiwork! Start this fun and inspiring project and let your creativity run wild.
With its spacious interior and external pockets, a Rucksack is great for carrying around everything you need for a day out or a trip to the gym. But what about using it as your go-to bag for all your sewing and crafting supplies? The rucksack's size and pockets make it perfect for organizing and transporting your tools and materials. Imagine walking into your next crafting class with this stylish and functional bag on your shoulder. Not only will it make a statement, but it will also make your life easier. Whether you're new to bag making or a seasoned pro, the Sewing Bee Rucksack is sure to provide you with some serious inspiration.
Whether you choose to use traditional textures or introduce something fun like pom- poms or sequins, you can create a bag that no one else has! You can make it your own and be proud of carrying around something truly unique.
2. Design Inspiration for the Rucksack
Look to outdoor activities for design inspiration. The ruggedness of camping, hiking, and rock climbing equipment can be translated into a unique and functional rucksack design. But why stop there? Nature can hold a wealth of inspiration for all types of creative
projects, including sewing. The colors, textures, and patterns found in the great outdoors are endless. Imagine incorporating a leaf print into a quilt or using earth-toned fabrics to create a cozy and warm jacket for the fall. The possibilities are endless when it comes to drawing inspiration from nature, so take a step outside and see what sparks your creativity.
We have many bag making accessories on our website, zips, buttons, d-rings, binding tapes, trims etc
Take inspiration from vintage military packs. The practicality and durability of these packs can be combined with modern materials and construction techniques to create a truly unique design. By incorporating these elements into your sewing projects, you can create pieces that are both stylish and functional. Draw inspiration from the utilitarian design elements and adapt them to suit your own personal style. Experiment with bold colors and patterns, or stick with a more minimalist approach. Let your creativity run wild and see where it takes you. With the right materials and techniques, the possibilities for sewing inspiration are endless. So why not try something new and exciting today?
Meanwhile, fashion trends are a great source of inspiration when it comes to creating a trendy and modern rucksack. Designers are constantly innovating with fabrics, textures and colors, making for unique designs that will truly make your rucksack stand out. Whether you're looking for something subtle or bold, there is sure to be something inspiring among the latest trends that you can use as the basis for your design.
3. Materials Used in the Rucksack Construction
GBSB season 9 has brought us an array of versatile fabrics to work with, where we can express our creativity through stitching and embroidery. The use of durable, waterproof fabrics like Cordura or waxed canvas makes it an excellent choice for designing backpacks or messenger bags that can withstand the wear and tear of outdoor activities. The vibrant color schemes available in these heavy-duty fabrics allow for an additional pop of personality to your bags. Whether you are a beginner or an experienced seamstress, the options are endless, and there is something for everyone to create. Get inspired by GBSB season 9 and create an outdoor accessory that reflects your personal style!
Similarly, when making a bag, the incorporation of heavy-duty zippers and hardware such as brass buckles and D-rings is an inspiring way to add not only functionality but also style. This unique combination can take your handmade bag to the next level!
4. How to Make the Rucksack
The rucksack is a versatile accessory that can be customized to fit any individual's personality and style. Sewing enthusiasts can unleash their creativity by designing their own backpacks using various fabrics and embellishments. The possibilities are endless when it comes to sewing a rucksack. From selecting a pattern to choosing the right fabric that complements your overall look, sewing a rucksack can be a fun and stimulating experience. For those looking for inspiration, Pinterest and YouTube are great platforms where they can find innovative ideas and step-by-step tutorials on sewing their own rucksack.
While it may seem daunting to attempt a rucksack as a beginner, with the right mindset and inspiration, anything is possible! Sewing inspiration is all around us, from social media groups dedicated to showcasing new projects to blogs highlighting innovative techniques. So let's grab our thread and needles and start creating!
5. Tips for a Successful Sewing Project
Choose the right pattern! When selecting a sewing pattern, it's important to keep in mind your experience level. You don't want to bite off more than you can chew, but you also don't want to bore yourself with something too easy. Luckily, there are many sources of sewing patterns, and many have user reviews. There are also lots of free patterns for simple bags out there to get you started. With so many wonderful sewing projects out there, it's easy to find a perfect match for your skills, time, and creativity!
Prepare and organize: Before starting your project, make sure to gather all the necessary supplies and materials and have them readily accessible. It's also important to pre-wash your fabric and create a clean and organized workspace. Now that you're all set up and ready to sew, it's time to find some inspiration! Whether it's browsing Pinterest for new project ideas or attending a local sewing class, getting into the creative mindset is crucial for a successful sewing experience. Additionally, connecting with other sewists through online communities or social media can be a great way to share tips and tricks, as well as find motivation to tackle that new project you've been eyeing.
6. Final Thoughts on the Sewing Bee Rucksack
I find it inspiring to see how sewing projects like these can help boost our creativity and challenge our skillset. It's amazing to see how far you can push your sewing skills when you try to create something that is not only good-looking but also practical. The Sewing Bee Rucksack project is a perfect example of this. The design and material choices come together to create a final product that is both functional and stylish.
All of the hard work and effort can be greatly rewarding when you have a beautiful creation that you can truly be proud of. Looking for some sewing inspiration? Why not try bag making? Not only are there countless patterns and designs out there to play with, but bags also make excellent gifts for friends and family. From stylish totes to practical backpacks, the possibilities are endless. Plus, once you get the hang of it, you can even customize your bags to fit your personal style and preferences. So why not give it a go? You never know what kind of amazing creation you might come up with!