WHITE/PINK/BLUE - MAKE TRACKS Duoplex & Lace - Cashmerette Willowdale etc, Wired BRA - per kit (click for details)
WHITE/PINK/BLUE - MAKE TRACKS Duoplex & Lace - Cashmerette Willowdale etc, Wired BRA - per kit (click for details)
WHITE/PINK/BLUE - MAKE TRACKS Duoplex & Lace - Cashmerette Willowdale etc, Wired BRA - per kit (click for details)
view details
SKU:
This kit contains a non stretch duoplex, it does have a little give, so will be suited to the Cashmerette Willowdale pattern, and many other patterns.
If you are using the Willowdale Bra pattern, please check the contents listed below to determine your choice of kit
Approx CONTENTS - ALL KITS:
20cm wide White Stretch Lace x 60cm
75cm x 75cm – Make Tracks 90gsm Duoplex fabric
1m x 75cm polyester lining
Powernet Alternative for wings - 75cm wide x 40cm
Strap (size dependent on choice) x 1.25m
Blue Rings and slides to suit (2 Rings, 2 slides)
Bra Plush Elastic 10mm x 1.25m, 
Bra Plush Elastic for Band (size dependent on choice) x1.25m
1m of Bra wire Casing in white
Bra Back fastener 57mm wide (3x3)
2 small Pink bows
Choose the Group for your kit, for your choice of Strap and Band
Group 1 ( for sizes 28-40C, 28-38D, 38-36DD, 28-32E) 
13mm Strap, 12mm Band
Group 2 ( for sizes 42-44C, 40-44D, 38-44DD, 36-44E ) 
19mm Strap, 12mm Band
Group 3 ( for sizes 28-32F, 28-30G, 28H) 
13mm Strap, 19mm Band
Group 4 ( for sizes 34-44F, 32-44G, 30-44H, 28-44I, 28-44J ) 
19mm Strap, 19mm Band
We haven't quite got to figuring the best wires for this pattern, but it seems it uses Porcelynne wires
Our style 14 in size W40 is closest to the Porcelynne 44.  The US sizing is different but also the 14 is a minimiser so a wider style.  We will try to create a chart for comparison eventually!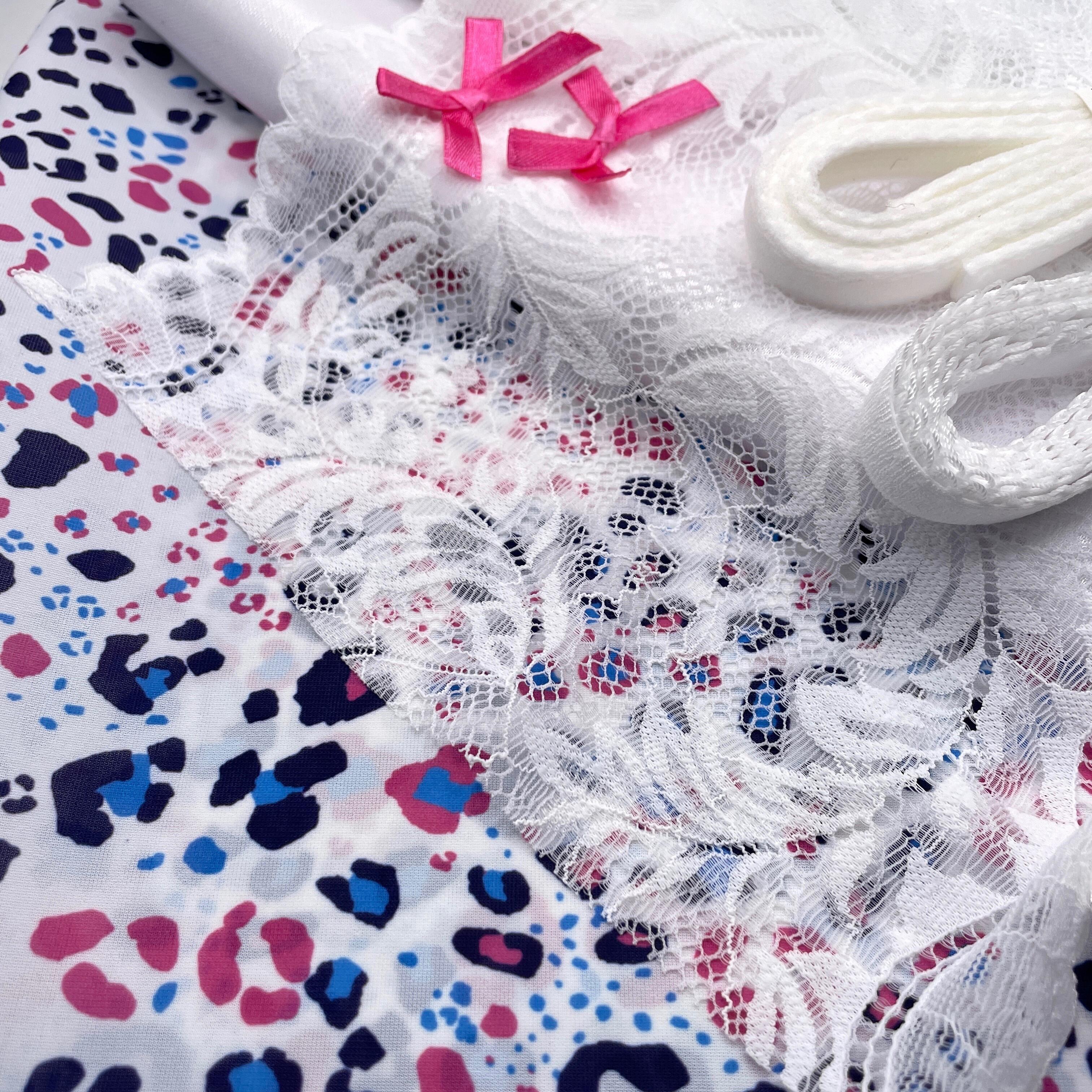 Share the love with your friend
Complete the form below and we'll email your friend about this product
You'll earn 0 reward points with this purchase.